The Onyx Pebble high-speed hand dryer combines all the features of a modern hand dryer.
Performance and elegant design meet in a hand dryer that will also dry your hands at the highest standards of hygiene.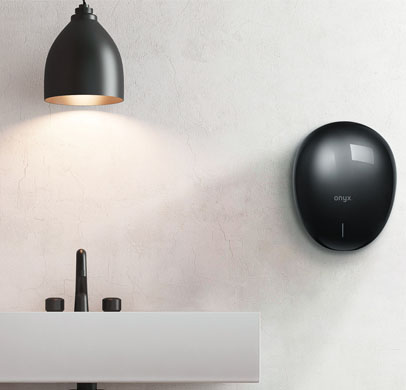 High performance: Dry time of 12 seconds, brushless motor technology custom-designed for endurance.
Sleek and stylish: Pearl color finish and lighting design for standby and drying mode.
Hygienic: 3M Hepa filter used in medical devices, filtering up to 99.97% particles. Filter replacement indicator.
Covered with an anti-microbial IONPURE coating which prevents from bacteria on the device and makes the hand dryer durable and heat-resistant.
Energy-efficient: Very low energy consumption of 300 Watts with an optional heater (equipped with a switch) in colder periods. CO2 impact is reduced with 90% compared to paper towel usage.
Economical: equals the cost of 6 to 8 months of paper towels with a 7 years life expectancy.
Quiet: noise level of 68 dB lower than most high-performing hand dryers.
Plug & Play system: platform mounting bracket for easy upgrade to products with same backplate.
Durable, 5-year warranty: High quality ABS, resistant glossy UV-coating.
Available in 3 colors: White, Black, Grey.
Watch the video about the Pebble:
Specifications
Operation
Dry time: 12 seconds
Noise level: 68 dB
Lighting for standby and drying mode
Technical
Power: 300 W / 700 W (heater)
Alimentation: • 220-240 V • 50-60 Hz
Air speed: 96 m/s
ABS cover black
Heater 400 W optional (switch on/off)
Hepa Filter
Electrical insulation class II • IPX3
Dimensions
Height 322,10 mm, width 270,5 mm, depth 146,6 mm
Net weight 2,6 kg, gross weight 3,2 kg
Warranty: 5 years