The Stell'Air hand dryer metallic grey from the french company JVD brings together all the latest benefits of efficient fast hand dryers at a very competitive price.
High-speed, dry hands in 10 to 15 s with a noise level of only 73 dB.
Save money with low energy consumption (now 800 W) and no heater (but with a hot air sensation).
Hygienic because of its antibacterial treatments and filters.
Water dripping avoided with a water collector and associated reservoir.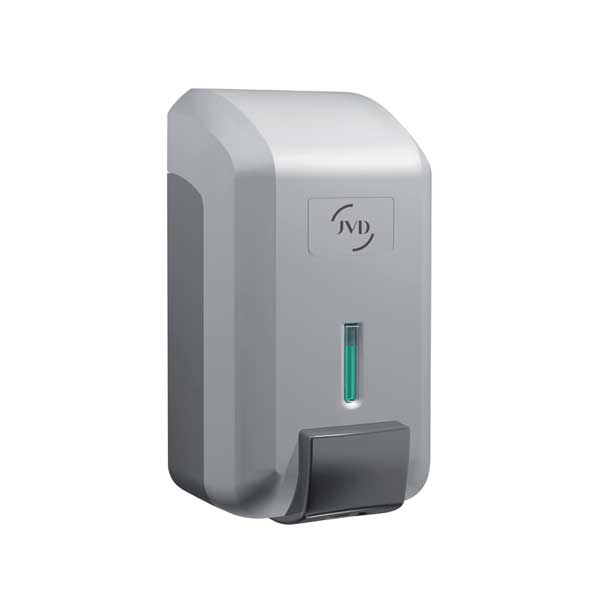 To go with the Stell'Air gray, choose the matching Cleanline soap dispenser in grey: https://www.bavada.com/en/soap-dispensers/164-jvd-cleanline-manual-gel-soap-dispenser.html#/37-color-grey

In addition, the Stell'Air is designed and manufactured in France and has an ergonomic design with a compact custom tab like its predecessor, the famous Exp'Air.
A reliable and efficient product for all restrooms of public places, hotels and restaurants, museums and sport centers, and businesses concerned with the quality of the hygiene in their toilets.
See how to use it:

Specifications
Operation
Dry time: 10-15 s
Noise level: 73 dB
Air speed: 600 km/h

Breathing

side

and height

of the

air

for better hygiene
Antibacterial

surface treatment

and air filter

Boiler

and water

tank

Blue light

in

the drying zone
Technical
Power: 800 W
Electrical: • 230 V • 50/60 Hz

Circular

blow

patented

ABS cover metallic grey paint

Antibacterial

air filter

available

for easy cleaning

Water collector

easy to clean and 1,5 l water tank

Tank with

key and

racordable

to sewage

No heater

Electrical

class II • IP44
Eco recycling: 0,30 e UNHT
Dimensions
H 531 mm, W 340 mm, D 260 mm
Net weight 5,9 kg, gross weight 7,1 kg
Model number: 811963
Warranty : 3 years, made in France