The Jet Towel Slim from Mitsubishi is the 9th generation hand dryer of the first high speed hand dryer created in 1993 by the Japanese company.
This latest Jet Towel has the same nice features as the original one (adjustable airspeeds, heater on-off option, convenient water collection tray...), but now with a faster dry time, quieter operation, and improved accessibility. Over 25 years of experience have led to improve the performance of the dryer.
Choose between 2 speed modes and the heater on or off to adjust the dry time, the level of noise and the energy consumption.
For example, on high speed mode with heater on, hands will be dried in 10 s at a level noise of 70 dB with an energy consumption of 1240W. On standard mode with heater off, hands will be dried in 15 s at a level noise of 60 dB with an energy consumption of 550W.
Hygienic: antibacterial surfaces, no-touch design, optional antibacterial filter (please contact us if you are interested).
Comfortable to use: large drying area and alternate sensors placed inside of the drying area to detect small children's hands or adult in wheelchairs hands entering from the sides.
Easy maintenance with easily accessible drain tank.
Very energy-efficient with smart nozzle designs

that provides an optimum balance between air flow rate and air volume, further enhancing hand drying's efficiency.

Long lasting reliability: 3600 hours motor life - Equal to 7 years at 400 uses per day.

Stronger front and back panels for greater impact resistance.
Large drying area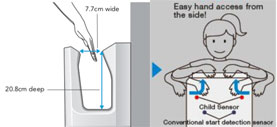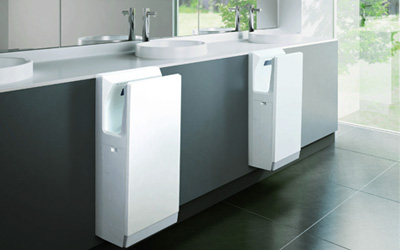 With his rectangular and slim design the Jet Towel Slim matches well with most sink styles. The overall unit size was taken into consideration as well, ensuring that the top of the unit can be neatly aligned with the top of the sink basin. The Jet Tower Slim hand dryer is suitable with every restroom.
Specifications
Operation
Drying time: 10-15 seconds, adjustable
Noise level adjustable: 60 dB to 70 dB
Easy maintenance
Technical
ABS polycarbonate cover, silver
Power output adjustable: from only 550 watts to 1240 W
Alimentation: • 240 V • 50 Hz
Heater on/off
Motor: adjustable. 2 positions: High and Standard
Air speed: 96 - 105 m/s, adjustable
Activation: Automatic sensor
Antibacterial surfaces
NSF certification, IPX4
Drain tank: 0.8 L
Dimensions
Height 670 mm, width 300 mm, depth 219 mm
Net weight 11 kg, gross weight 15 kg
Warranty: 3 Years limited