SPECIAL OFFER:
GET ONE FREE BACKPLATE WITH EVERY DYSON HU03 9KJ YOU ORDER.
Your free backplate can be found here: FREE-970408-01-PROMO
This limited-time offer is only valid for 1 backplate per 9kJ hand dryer purchased.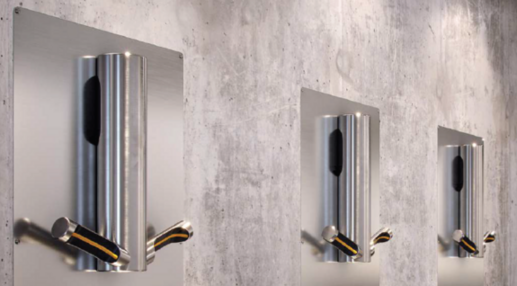 Dyson Airblade 9kJ HU03 hand dryer, energy efficient, quieter, hygienic, fast.
Dyson continues to lead through innovation with the newest member of the Airblade family: The "9kJ." The previous models introduced improvements in sound level (the "dB" was quieter than ever), in space used (the "V" was the most compact dryer to date), and in function (the Wash+Dry combined faucet and hand dryer). So what, you ask, does "9kJ" stand for? The newest name focuses on efficiency.
9kJ refers to 9 kilojoules, the amount of energy required to dry your hands. To put that in perspective, Dyson estimates that this dryer will cost just $19/year to operate in ECO mode!
Performance-wise, the HU03 has two modes. ECO and MAX.
ECO mode is quieter (77 dB), but still dries your hands in 12 seconds.
MAX mode is faster (10 second dry time), but still just as quiet as the HU02 (Model "V").
Specifications
Touch-free 'time of flight' activation
Hand dry time: 10 s MAX mode - 12 s ECO mode
Sound power level: 79 dB MAX mode- 77 dB ECO mode
Technical

200V - 240V, 50/60 Hz
900 W MAX mode - 650 W ECO mode
Stainless steel brushed (304L)
Motor type: Dyson digital motor switched reluctance brushless
Motor speed: 90,000 rpm
Heater type: None
Standby power consumption: 0.5w
Water ingress protection to IP24
Energy consumption per dry: 9 kJ
HEPA filter with anti-microbial coating
99.9% particulate efficiency <99.9% bacteria removal.
Net weight 4,5 kgs, gross weight 7.6 kgs
Packaged dimensions: 129 x 520 x 616 mm
Product Certification
:
Carbon Trust
Single unit order code:

314696-01
Unit barcode

(EAN) :
Dyson HU03 :
885609017686