The Alphadry Hand Dryer is an efficient fast hand dryer with a sleek design at a competitive price.
High-speed, dry hands in 10 to 15 s.
Activable heating element allowing the choice of drying with hot air or with lower energy consumption without the heating.
Water dripping avoided with a water collector and associated reservoir.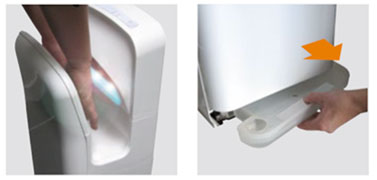 A reliable product suitable for intensive use for all restrooms of public places, collective spaces, hotels and department stores, and businesses concerned with the quality of the hygiene in their toilets.
Specifications
Operation
Dry time: 10-15 s
Noise level: 78 dB

Hepa filter

Boiler

and water

tank

Blue light

in

the drying zone
Technical
Power: 1050 - 2050 W
Electrical: • 230 V • 50/60 Hz
Air flow: 190 m3/h
ABS cover metallic grey paint

Antibacterial

Hepa

air filter

Water collector

easy to clean and 0,8 l water tank

Heater which can be activated

Electrical

class I • IP21
IK10 anti-vandalism
Dimensions
H 685 mm, W 300 mm, D 220 mm
Net weight 11,45 kg, gross weight 12,76 kg
Model number: 811906
Warranty : 3 years, made in France